Increase the Performance and Decrease the Costs
UBI Telematik's products let you monitor your fleet real-time while letting you in charge of analyzing your fleets performance.
In addition to all tracking data required for fleet management, you can also benefit from analyzing your fleets performance, decreasing crash frequency and impact with safe driving feedbacks, increasing the residual value (RV) of your vehicles and also saving on fuel.
Up-to 40% Decrease in Crash Rates and Severity
Identifying frequent mistakes and providing safer driver feedbacks allow the drivers to concentrate on the most significant mistakes thus easing the driver behavior improvement.
First Notification of Loss (FNOL)
Thanks to our real-time data flow, First Notification of Loss is reported immediately, helping save lives and also dispatching the ambulance or a tow truck when needed.
Increase in Residual Value
Every crash, minor or major, causes a decrease in the residual value of the vehicle. Improved driving behaviors not only reduces the number and severity of the crashes but also increases the residual value of your fleet vehicles up-to 10%.
Decrease in Replacement Vehicles Needed
Improving driving behavior decreases the need of replacement vehicles, by decreasing the number and the severity of the crashes.
Customisable scoring algorithm
Harsh acceleration, harsh braking, harsh turns, phone usage, phone calls, speeding data are used to determine the risk of the derivers with our customizable algorithms.
Fraud Detection and Prevention
Realtime and backwards compatible reports provide a means to know where the vehicle was and also the magnitude of the impact.
Decrease in Policy Prices
Improving driver behaviors cause a decrease in the loss/premium ratios of the insurers, thus leading to a better policy pricing thanks to the improved average score of your fleet.
Decrease in Fuel Consumption
Fuel is unarguable one of the most important cost items of a fleet. Improving driver behavior not only decreases the aggressive driving habits, but also this decrease causes more fuel economy. Our Safer Fleets program can decrease your fleet's fuel costs up-to 10%.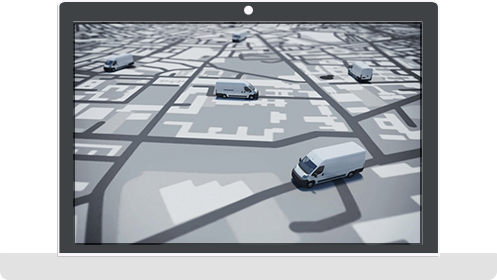 Advanced Fleet Management
Innovative, easy to use and cost efficient
Turn key solutions irrespective of the fleet size
White-label and with mobile responsive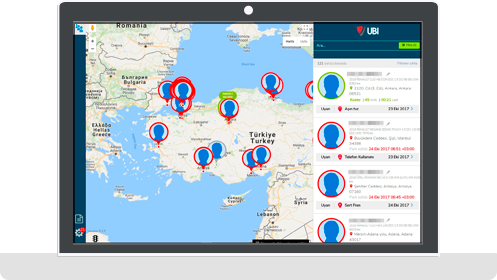 Monitoring Real time and Past Locations of the Vehicles
Track your fleet real time with real time traffic and road conditions info
Prevent and report unauthorized trips
Increase the chance of recovery after a theft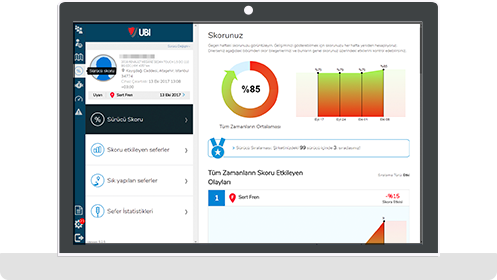 Monitoring Driving Score and Risk
Harsh Acceleration
Harsh Braking
Harsh Turns
Phone calls and phone usage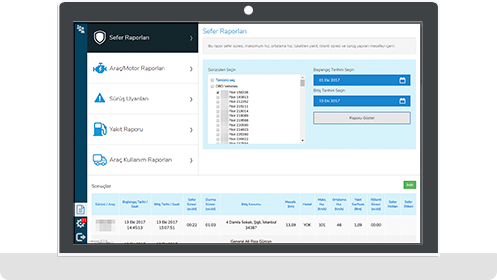 Advanced Reporting
Trips
Vehicle status
Driver Behavior
Driving details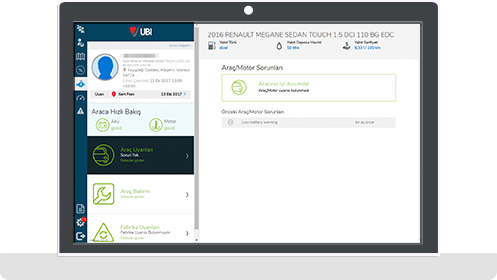 Preventive Maintenance and Engine Status
Vehicle and engine alerts
Fuel levels
Crash details
Factory recalls and messages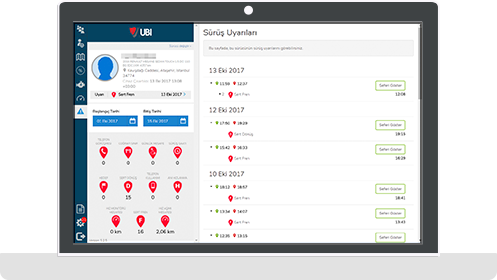 Fleet Tracking Information
Driving location
Driving distance
Driving time
Driving duration
Technological Innovation Partner
Contact us to reshape your corporate future