Posted by:

UBI Telematics
Post Date:
5 October 2017
---
UBI Telematics
Telematics is a widely used in-vehicle technology. It combines telecommunication and informatics, providing location tracking, wireless communications and system control of automotive electronic systems. Thanks to enhancements in connectivity technology, like 4G and 802.11p-based dedicated short-range communications (DSRC) radio, as well as the Internet of Things (IoT), telematics services have improved, offering more intelligence and benefits. Nowadays, telematics services offer more than GPS navigation, vehicle tracking and basic driving safety functions. On account of improved data analytics and machine learning capabilities, car drivers or fleet managers can now utilize the data to enhance driving safety and fuel efficiency, along with additional functions like predictive maintenance and insights on vehicle health and driving habits. Furthermore, when the vehicles are connected to the cloud, drivers can get notifications about real-time parking space availability or nearby traffic and road conditions, and receive vehicle system updates. Smarter, connected telematics solutions are creating more value for automakers. It has resulted in the creation of new business models like telematics-based insurance, known as user-based insurance (UBI). A good example of how customers can utilize data analytics and machine learning can be seen in smartphone-based telematics, which is gaining much traction in telematics-based UBI and fleet management.
Growing market
The global telematics industry has witnessed healthy growth in the last few years and is expected to maintain growth — commercial vehicle telematics is predicted to grow steadily at double-digit rates over the next few years. The vehicle telematics market includes passenger cars and both light and heavy commercial segments. Some reports name North America, Europe and APAC as the largest regional markets for the global telematics market in the coming years. The automotive market in APAC is booming as a result of the fast-growing number of new cars projected to boost the sales volume of telematics systems and service subscribers. Allen Cheng, Senior Industry Analyst at Market Intelligence & Consulting Institute (MIC), indicated that the India market is growing at a rapid pace, with double-digit annual growth in passenger vehicles.
Telematics systems are at the helm of smart and connected commercial vehicles, enabling quick return on investment (ROI), compliance with governmental regulations, and enhancements in driving safety, fuel management and fleet productivity. For some fleet managers and logistic companies, telematics plays an important part in their business and could be considered a revenue generator as it can help them get rid of gas guzzlers and improve gas mileage. TomTom Telematics, one of the largest European fleet management service providers involved in fleet management and other connected car services, stated in its annual report that some of its customers were able to save in excess of 20 percent on fuel usage and vehicle efficiency by using its services.
"Through connected truck technology, fleet operators will be able to optimize factors such as fuel, maintenance and driver wages, which together contribute more than 60 percent of the total cost of ownership. In the GCC alone, parts costs (including lubricants and tires) of a heavy commercial vehicle can exceed US$3,000 per year. Usage of predictive maintenance can reduce this by nearly 20 percent," according to a recent white paper by Frost & Sullivan. The paper further indicated that the global connected truck market is creating growth opportunities in commercial vehicle telematics, despite these solutions being relatively high-priced.
The commercial vehicle telematics market is projected to grow from $7.3 billion in 2017 to $18.4 billion by 2022, at a CAGR of 20.3 percent, according to a report from MarketsandMarkets. This market growth is supplemented by the adoption of telematics solutions and services resulting from growing government mandates on deploying vehicle tracking systems in commercial vehicles and rising demand for smartphones. Research firm Technavio also forecast the global commercial telematics market to grow at a CAGR of more than 18 percent from 2017 to 2021, with the Americas predicted to take up around half of the global market in 2021.
Top customer concerns
The adoption of new vehicles and demand from the demand side is driving growth in the market. On the consumer side, navigation, emergency assistance, car security and safety are top concerns. A report by Strategy Analytics said OEMs should focus on services that bring improved safety and security; mid-range vehicle owners in the U.S. showed the highest interest in tracked services, such as stolen vehicle assistance, automatic crash notification, remote diagnostics, remote start and teen driving alerts. In commercial telematics, improvements in fleet efficiency and productivity, driving safety, as well as reduction of fuel and operational costs are top concerns of customers like fleet managers and logistic companies.
More than 85 percent of new vehicles will be equipped with telematics in North America and Europe by 2022, according to IHS Markit. There will be 87-percent penetration rate in the U.S., 89 percent in Canada, 91 percent in Germany, 92 percent in the U.K. and 54 percent in China; with more than half of the global fleet of vehicles in operation connected.
IHS Markit also surveyed more than 5,000 vehicle owners intending to purchase new vehicles within the next 36 months in countries like the U.S., Canada, China, Germany and the U.K. to find out consumer preferences for automotive technology. Results showed that roadside assistance, crash notification and navigation systems are top features that garnered the most consumer interest, along with increasing demand for integrated apps in new vehicles.
Embedded vs. smartphone telematics
Road safety is also a major concern for governments worldwide. Government-mandated installation of vehicle telematics systems in some countries are expected to propel market growth. Thus, there is a tendency for automakers to deploy embedded telematics in their new vehicles, partly because of this and partly because of customer demand for connected car solutions. According to Technavio's latest report, the embedded system segment of the global commercial telematics market is growing at a CAGR of 17.5 percent. The report estimates the percentage of new vehicle sales with embedded telematics will reach more than 75 percent of the on-road cars in the U.S. and more than 35 percent globally by 2018. Based on a report by MarketsandMarkets, the telematics control unit (TCU) is predicted to be the fastest growing market for on-highway vehicles from 2017 to 2022. The report said, "The safety and security regulations such as European Commission's eCall or stolen vehicle recovery are some of the key factors driving the growth of this market. All passenger cars in Europe must install TCU by 2018. Some of the key automotive manufacturers like General Motors, Mercedes-Benz, BMW and Audi are providing embedded services, especially in the North American and European regions."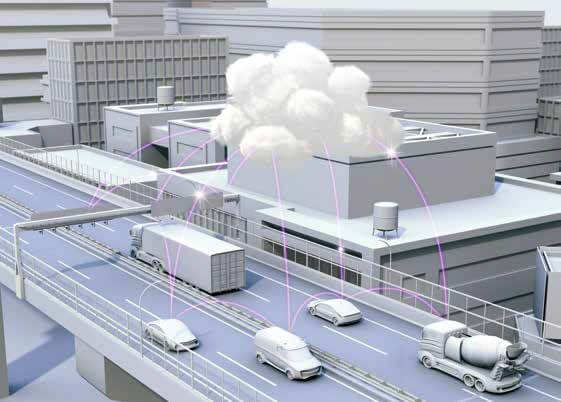 The proliferation of smartphones has changed consumer behavior, with a growing number of users interested in integrating their mobile apps with their vehicles to align with their usage patterns. Smartphones are also being used as drivermonitoring devices and lower cost alternatives to embedded telematics systems. Furthermore, more and more companies like Cambridge Mobile Telematics and Octo Telematics have introduced IoT sensor technology and data analytics into their services to provide behavioral analytics and smartphone-based telematics solutions to commercial fleet owners and insurers.
Industry convergence
Hardware manufacturers, telematics service providers (TSPs), telecom operators, automakers and auto parts companies are the ones providing telematics products and services — companies, such as GM with OnStar, have their own telematics solutions. Many new entrants have entered the market and expanded their market share. Some have tried to improve their product portfolios via mergers and acquisitions (M&A) or partnerships. This type of industrial collaboration will continue, especially as new technologies and business models are introduced. As new technologies are adopted by cars, more new companies will join in on the competition, bringing with them new solutions.
Fleet management is an important application for telematics and there are several M&As taking place in this field. For example, Verizon's annual report indicated that IoT is a fast-growing area for the company; its 2016 acquisition of Fleetmatics and Telogis helped it become the leading telematics company in the U.S., strengthening its position in the IoT marketplace, particularly in telematics and connected transportation solutions. Michelin acquired NexTraq, a US provider of commercial fleet telematics, which will strategically accelerate the company's growth in telematics, expand its geographic footprint and strengthen its competitiveness in fleet management technology and services in the U.S. Continental has integrated Carnegie Technologies' network convergence platform into its smart telematics solution for vehicle manufacturers, strengthening its next generation TCU with a cloud-based component for analytics and diagnostics.
With increasing demand for vehicle electrification and digitization, new players from IT industries could become challengers to existing players. Evolving technology may reshape the supply chain in the auto industry. "With regards to new entrants in the telematics industry, we see the strong supply-side push from communication IC, memory, camera and panel industries," said Cheng. From the demand side, Cheng indicated that evolving human-machine interface (HMI) and new value-added services propel the market demand for machine replacement.
IoT drives the future
IoT is boosting technological innovation and transformation in the vehicle telematics sector through advanced sensor technology and real-time data collection and cloud analytics. With this, next-generation telematics services are expected to feature better intelligence and connectivity, and offer vehicle system updates and a managed platform to customers. When it comes to cloud services across the globe, Cheng indicated that cloud platform providers such as Microsoft, Google and Amazon could partner with the telematics industry as digital infrastructure providers. Such partnerships help telematics suppliers further optimize performance, reduce development time and enable cost-efficiency. For instance, MiX Telematics hosts its software-as-a-service (SaaS) application on an Amazon Web Services infrastructure for more cost-effective disaster recovery and backup.
Data is valuable in the IoT era and Cheng thinks data monetization will become one of the primary focus for telematics companies. Whether there will be new business models generated by digital disruptions, the connected car industry is expected to both generate and consume a considerable amount of mobile data no less than a smartphone. "Consumers in Asia prefer freemium services to subscription-based services. In order to generate revenues, telematics service providers need to adapt to data economy business models such as digital advertising or work with third parties like insurance companies."
When more and more cars are connected with new services from different vendors, cybersecurity becomes a critical issue. Cheng indicated that vehicle hacks could affect driving safety and driver privacy. "Privacy by design and security by design already became default when designing a vehicle," Cheng said. Telematics is now more than a tool to connect cars and people, it can create links among cars, road infrastructures and cloud platforms. In this sense, every connected car will become moving sensors on the road in a fully connected city or area.
Vehicle electrification and digitization is a megatrend. In the foreseeable future, cars might be able to communicate to one another through the cloud platform or using other technologies cited in science fiction stories, making unmanned driving a reality. A smart central control unit in next-generation cars will become essential, especially for electric vehicles.
Also, drivers are living a digital lifestyle and their preferences will also affect auto design trends as well. Next-generation car systems are expected to keep connected and updated all the time via over-the-air (OTA) or other new technologies, making stable network connectivity and data security important factors to consider. In addition, telematics continues to be a popular tool for fleet management and insurance applications that can generate considerable growth over the next few years. We can expect the next-generation in telematics services to feature better intelligence and connectivity, and offer vehicle system updates and managed platform to customers, enabled by cloud-based analytics and IoT-enabled platform.
Read more at http://www.asmag.com/showpost/23807.aspx