Tarafından gönderildi:

UBI Telematics
Posta tarihi:
8 Eylül 2016
---
UBI Telematics
Usage-based auto insurance (UBI) is expected to grow exponentially over the next decade. IHS Automotive says that there will be 142 million global consumers using UBI coverage by 2023, in a study called Auto Tech Report – Usage Based Insurance (UBI).
Explana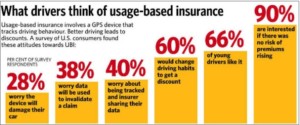 tory by its name, Usage-based auto insurance is a type of coverage that literally only charges consumers for how much they use their vehicle. This kind of insurance has even been further refined to charge drivers for insurance by the mile. UBI coverage usually involves drivers installing telematics devices in their vehicles for companies to monitor usage.
The telematics devices installed in vehicles monitor drivers in real time, taking account of the way the car is driven, how fast it goes, and assessing the risk the driver presents. Many millions of users are already using UBI around the globe and by the end of 2015 there were 15 million customers on board with this growing insurance model.
Read more at http://telematicswire.net/ubi-on-a-rise-globally-canada-lagging-behind-in-telematics-usage/#6E1qSCSi5fFS7x4g.99
"The current UBI landscape is in transition with robust expansion," noted Stacey Oh, manager of automotive technology at Englewood, Colo.-headquartered IHS Automotive, in a statement. "New insurers are entering the market, new markets are being opened and new solutions are being launched."
This growing market is still finding its feet, especially in Canada where telematics and UBI is still not used wide-scale by auto insurance providers. There is no doubt that Canada will get on board with the telematics model eventually, but companies are still searching for the best way to implement the model and how to make it a valuable coverage.
Consumers may need to be convinced to ride around with their driving being monitored, but the savings on premiums could offset any issues of privacy. That has been the case in mature UBI markets like the United Kingdom and Italy, the latter of which sees UBI have a 10% market share over the entire auto insurance market.
Read more at http://telematicswire.net/ubi-on-a-rise-globally-canada-lagging-behind-in-telematics-usage/#6E1qSCSi5fFS7x4g.99
Source and full text: http://telematicswire.net/ubi-on-a-rise-globally-canada-lagging-behind-in-telematics-usage/